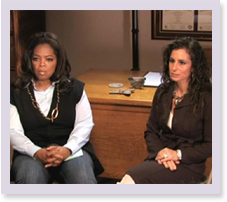 What has psychotherapist Dawn Horwitz-Person learned from child molesters? Find out. The warning signs you should look out for and misconceptions about molesters.
The Oprah Show
Oprah and a No-Holds-Barred Conversation with Child Molesters
Oprah calls it the most honest conversation she's ever had with sex offenders. Oprah sits down with four admitted child molesters and Dawn for a frank, graphic discussion of their crimes. Watch the two-hour conversation in its entirety—an Oprah.com exclusive.
Oprah's Q&A with Dawn Horwitz-Person
Stop abuse before it happens. Therapist Dawn Horwitz-Person debunks myths about molestation. Read the question and answer session between Oprah Winfrey and Dawn about the issues of sexual abuse and sexual violence including common warning signs some molesters share; how therapy can help people who've already abused children; what do child molesters 'look like'; common misconceptions, and more. Read the full Q & A session here.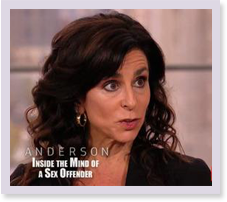 Anderson points out that all adults have problems, and he questions Dawn why these particular adults cope with their problems by abusing young people.
The Anderson Cooper Show
Inside the Mindset of Sex Offenders
Most people have a tough time understanding why sex offenders prey on children, or why they feel that compulsion at all. Dawn, a treatment therapist for sex offenders, has worked professionally with many of them, and has some insight. "People are often going through a lot of struggles in their life, feeling powerless, feel frustrated," Dawn says. "So they find somebody that's younger, weaker, more vulnerable than they are to pick on." Anderson goes inside the mindset of sex offenders in this riveting show and learns why most sex offenders cope with their problems by abusing young people. Watch the episode.
If you or someone you know is a victim of sexual abuse, call the National Sexual Assault Hotline at 1-800-656-HOPE